At BAU 2017, the manufacturer of energy-efficient and sustainable sealing solutions received two awards from the Passivhaus Institute for Passivhaus-certified products.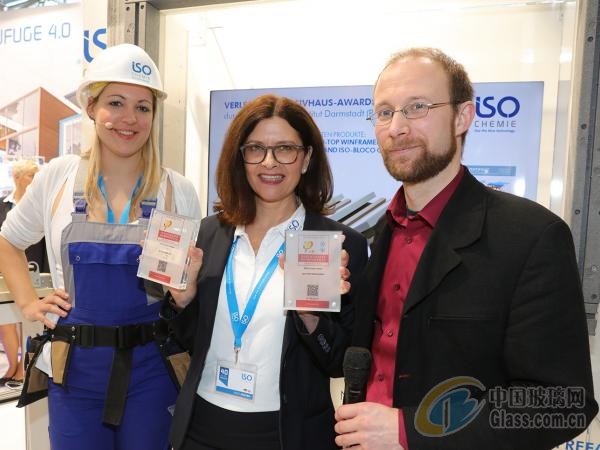 Dr Benjamin Krick, leader of the Component Certification working group at the Passivhaus Institute, presented ISO-Chemie with the special awards for the IN FRONT OF WALL INSTALLATION SYSTEM ISO-TOP WINFRAMER and the ISO-BLOCO ONE multi-functional joint sealing tape.
Inge Knorn, Marketing Manager at ISO-Chemie, was delighted to receive the awards and emphasised that both product solutions offer outstanding thermal values, making them ideal for use in passive energy houses.
To achieve certification as a Passivhaus component in the window connection category, the in-front-of-wall installation system (which has been approved and comprehensively tested by ift Rosenheim) was tested against various comfort criteria and classified as Passivhaus efficiency class phB.
This demonstrated that the special material characteristics of theIN FRONT OF WALL INSTALLATION SYSTEM ISO-TOP WINFRAMER not only fulfils stringent static loading requirements, but also offers outstanding energy efficiency values.
It comprises a thermally insulating and load-bearing system angle made from PURATHERM which has a core providing excellent thermal insulation.
ISO-Chemie is particularly proud that its ISO-BLOCO ONEproduct was the first joint sealing tape to be granted the "Certified Passivhaus component" certificate by the Passivhaus Institute in the "Airtight systems / window connection" category. The Passivhaus certificate confirms that the multi-functional joint sealing tape offers outstanding airtightness values.
Presenting the award at BAU 2017 in Munich, Dr Benjamin Krick explained that, with its component certification, the Passivhaus Institute supports manufacturers in their development and marketing of highly energy-efficient products. Every Passivhaus-certified product thus makes an active contribution to climate protection.
The Passivhaus standard is characterised by very high energy savings combined with enhanced comfort compared to conventional new-builds and renovated properties. This requires the use of particularly energy-efficient components, in addition to careful and detailed planning.
As an independent body, the Passivhaus Institute tests and certifies products with respect to their suitability for use in passive energy houses. Products that bear the "Certified component" quality seal from the Passivhaus Institute have been tested against standardised criteria, have comparable characteristic values and offer excellent thermal quality.
With its certificates for Passivhaus components, the Passivhaus Institute also increases the visibility of the products' tested thermal characteristics. These characteristic values play a significant role in ensuring that a building subsequently achieves the energy savings that were forecast using an appropriate energy balance software package, such as the Passivhaus Planning Package (PHPP). This is a reliable design aid for architects and a quality assurance tool for project owners.
The use of Passivhaus-certified components such as the IN FRONT OF WALL INSTALLATION SYSTEM ISO-TOP WINFRAMERand ISO-BLOCO ONE multi-functional joint sealing tape thus makes building planning easier and significantly contributes to ensuring that a passive energy house functions perfectly in the long-term.