(China Glass Network) In July 2014, Weifang Maywell Industry Co., Limited joined China Glass Network.
For a new company, it was so difficult in exploring global glass trading. Weifang Maywell Industry Company joined us and had successful business with Pakistan customers!
Login times: 1941
Products display: 195
Total amount: $3 million
Manager Song said that he had no best methods to explore overseas business at the beginning, feeling worried. Until July 2014, he became the VIP Member of China Glass Network; it started good beginning in develop overseas business. Everything is clear!
"After joining China Glass Network, we received the patterned glass order of Pakistan customers. I personally followed the order; it went through three days from inquiry, quotation, bargaining repeatedly, finally we successfully made the first order, one container patterned glass and one container aluminum mirror." Said Manager Song.
"Then China Glass Network brought us more customer inquiries and information, and now we have successfully traded many orders! There will be more orders in the future. Thanks to China Glass Network, is a trustful and professional partner."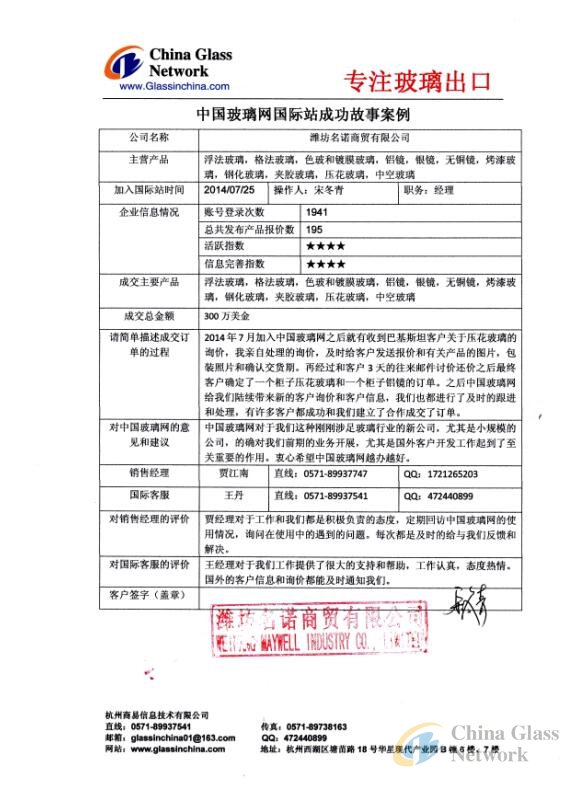 About WEIFANG MAYWELL INDUSTRY CO., LIMITED
We are glad to introduce ourselves as one of the best leading reputed companies Manufacturing and Supplying of all kinds of clear float glass, tinted glass, reflective glass, pattern glass and mirrors for Architectural, Automobiles and Industrial needs. We have achieved success by introducing new technologies with prompt delivery and maintaining the quality.