(China Glass Network) It has been a difficult journey for Chinese enterprises to conquer oversea market, however, challenges always are accompanied with opportunities. Many Chinese glass companies not only endeavor to sell their products across the globe, but also represent quality of Chinese products to enter global market. Actively searching and seizing every chance for getting every foreign trader order, Beijing Northglass Technologies Co., Ltd is one of those reliable and responsible glass companies.
Our Success Is Inseparable From China Glass Network
Choosing China Glass Network is a correct decision. We want to extend our appreciations to China Glass Network, which it actively helps us to attain around one million order. Dedicated to hard working and great services, our International department colleagues fully use every method to present our company and products. Specialized in producing sheet glass and processed glass, almost 90 percents of our glass products are exported to oversea market, which our market wildly covers more than 100 countries in Europe, North America, Southeastern Asia. Good product quality and well-provided after-sale services assist to receive customers' satisfactions from both at home and abroad. Positively engaged in several International projects, our company continues to upgrade and innovate, sticks to investing R&D and adheres to meeting customers' personalized needs. We promise that we will uphold the integrity for guaranteeing products quality and be a reliable partner for our customers forever. We will provide leading technologies and economic prices for broader market and march forward together with our customers.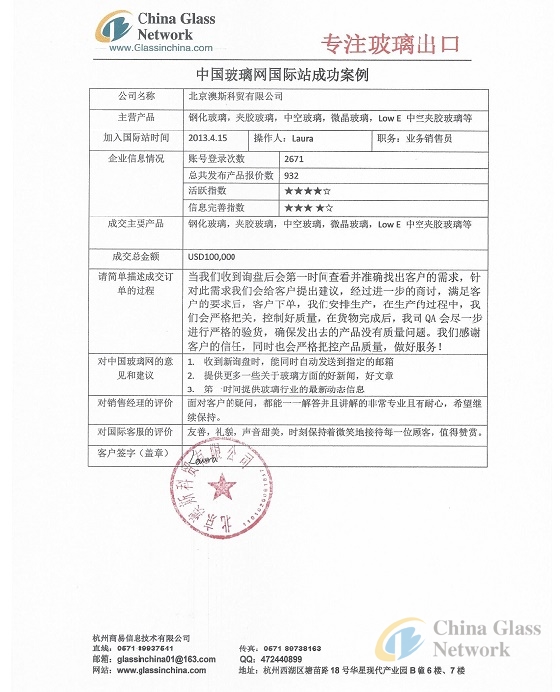 Every Step Counts
Logging into China Glass Network 2,671 times and posted 932 pieces of product information. After joining in China Glass Network (www.hnrjt.com), our colleagues keep treating each inquiry seriously and replying them professionally, which becomes a four-star active user by daily using. No pains, no gains. Responsible person of Beijing North mentions that: "We will check and reply our received inquires promptly and identify customers' needs precisely. Then we will put forward some useful suggestions based on their needs. Later, we organize well-rounded discussions for meeting customers' requests. After we obtain the order, we will strictly focus on the products quality and our QA will check each requirement one by one to ensure the best quality before sending goods out. Thanks to customers' trust, we will keep our rigorous procedures to deliver good products and provide best services. "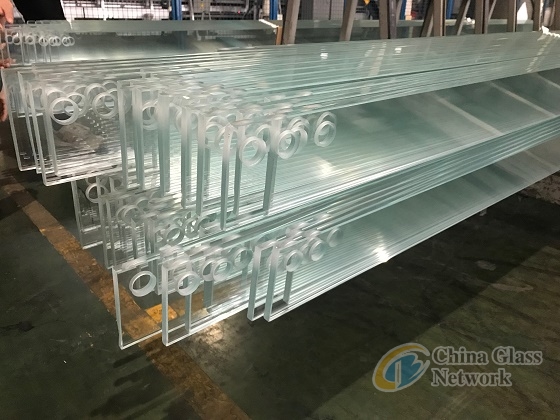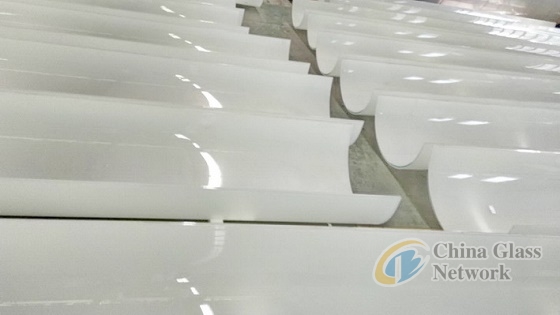 Facing many uncertainties and unstable factors ahead of us, we firmly believe foreign trade in 2019 will increase steadily based on supports from all ends. Improve ourselves internally whether in products quality or company's general competitiveness, glass companies should be aware and get ready to optimize products quality, upgrade services, and focus on creativity, which plays a pivotal role to enhance ourselves in the global market.
Devoted to providing one-stop solutions to glass companies in foreign trade fields, China Glass Network (www.hnrjt.com) is not only a bridge to connect China and oversea market, but also will facilitate more Chinese glass enterprises to enter into the global stage by providing, good, innovative, and customer-centered products and services.